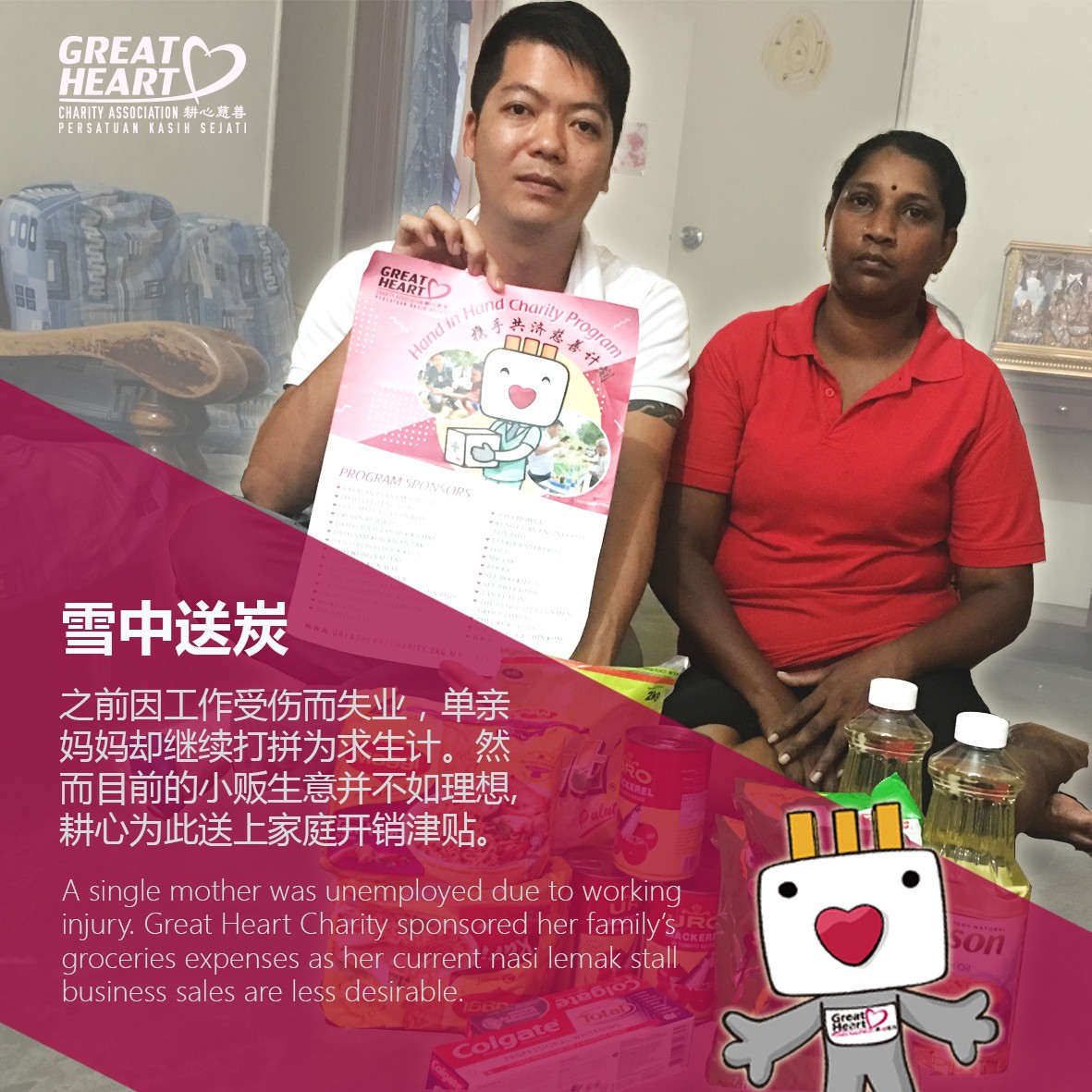 39岁的Lalitha,3个月前在超市里帮忙切猪,生活本来过的平凡,但在工作时不小心割伤自己的手指,而导致无法再继续从事这份工作。但是,她仍然从未有放弃的念头,她用她所有的储蓄,在她家附近开了一个椰浆饭的档口,就是要赚取生活费来偿还家里的房租,女儿的学费,和家里的三餐。
她的家庭背景十分可怜。10年前老公不幸患上癌症,在孩子还幼小的时候早就离开了他们两母女。多年前,因为Lalitha失业的关系,欠下的债务还未缴清,而且Lalitha每个月椰浆饭的生意也很差。不足1千令吉,但是她还是无论如何都坚持抵过压力,负责任的把女儿抚养长大。
耕心慈善会帮助Lalitha 缴付每月租金费RM300,帮助她减轻重要开支。租金费用不容怠慢,我们希望透过解决住宿费用的问题先,以能够尽快还清债务。
Lalitha, 39 years old, she worked as a supermarket staff 3 months ago. Unfortunately, she had hurt her finger during work and lead to unemployment. However, she never gives up and she spent all her savings to open a "nasi lemak" business stall nearby her house. She aimed to earn more money to pay her house debt, her children school fees and their foods.
She comes from a pitiful family background as well, her husband had been diagnosed with cancer 10 years ago and passed away. When she was unemployed few years ago, she owed a lot of people money for her to feed her children. Currently, her nasi lemak business is terrible and her monthly profit is not more than Rm1000. However, she showed her responsibility as a mother and she always put her daughter as priority to take care of her education and her foods.
Support: Great Heart Charity will be helping Lalitha on her rental fee for Rm300 subsidies monthly in order to help her reduce her heaviest expense. We need your help to sponsor us this family so that she and her daughter can lead a better lives.