The man behind Great Heart Charity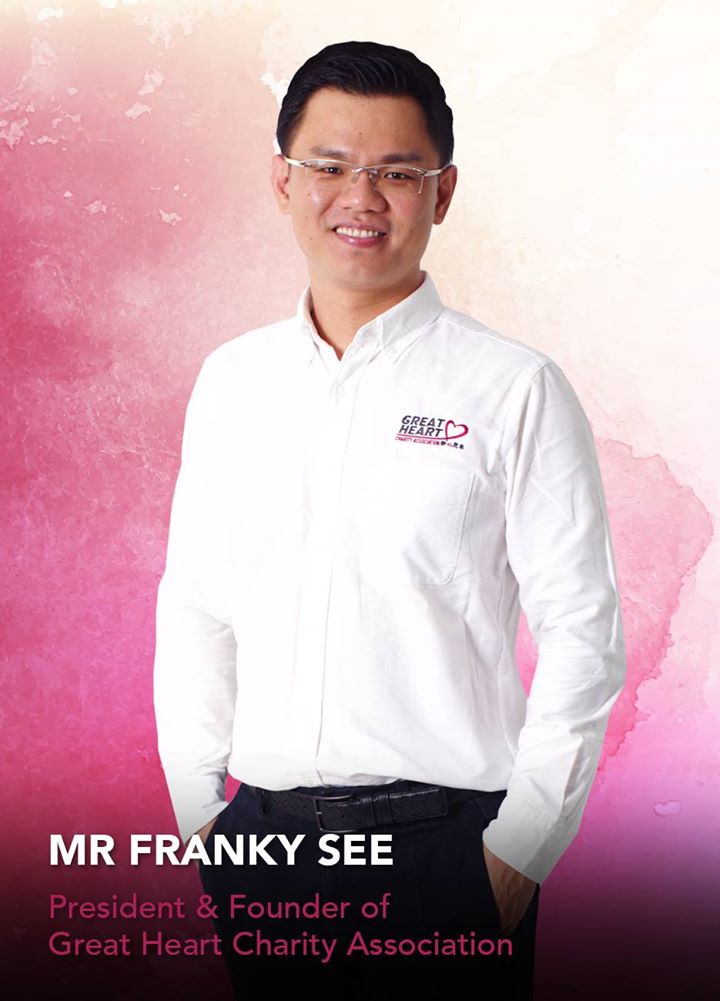 Today, we would like to honour our president and founder of Great Heart Charity Association, Mr Franky See Swee Choy for the success story of his philanthropy work.
ABOUT FRANKY SEE SWEE CHOY
Franky See Swee Choy is a businessman, philanthropist, and a family man. He is the founder of Great Heart Charity Association, which is a non-profit charitable organization based in Shah Alam, Selangor with the mission to cultivate a caring society by making charitable giving a part of everyone's life and creating a platform to link up contributors, beneficiaries, and volunteers. He is currently elected as the President of the association and aims to continue spearheading the association to greater heights so that he could inspire and influence more members of the public to care for the underprivileged groups.
Franky See is an established businessman with business interest in various sectors that includes talent management, manufacturing, and machining sector. His success in the business world thought him various management tools, philosophies, and ideas that allow him to replicate it in his philanthropy works.
Joining the work force at the tender age of 22, Franky is strong-willed and his determination is instrumental in bringing him success as a businessman one day. By the age of 25, Franky ventured into the realm of business and earned his first million by 26 years old.
Great Heart Charity Association established by Franky See is unique in a sense that it manages to attract the young generation to be volunteers and members of the association, where all its members are below the age of 40. It will next focus on schools and colleges to instill the philanthropy spirit in members of the public at a young age as Franky firmly believes that charity is a form of education too!
Thousands from the underprivileged groups have benefitted from the philanthropy works carried out by Great Heart Charity Association under the leadership of Franky. Among those that had benefitted includes orphanages, old folks home, home for the disabled, natural disaster victims, individuals being bogged down with kidney failures, as well as underprivileged families.
Every year, at least a thousand people attend Great Heart Charity Association's annual thanksgiving dinner that invites beneficiaries from the underprivileged groups, donors, and volunteers to dine together in the dinner function, with performances being rendered by students and underprivileged groups.
Among companies that have worked together with Great Heart Charity Association to bring love and care to the underprivileged groups are Columbia Asia Hospital, Kossan, Magnum, Hong Leong Foundation, Maybank, Anytime Fitness, Sin Chew Daily, Popular Bookstore, The Barbecue Plaza, and many others.
Great Heart's charitable acts had been highlighted by various major local dailies, online news, and magazines that include the Star, New Straits Times, the Sun, Sin Chew Daily, Nanyang Press, China Press, Feminine Magazine, Sinar Harian, and Kosmo. Franky has also been invited to the Breakfast Show on NTV7 for an interview on philanthropy work.
Franky's success is not limited to the business and philanthropy world only, as he is also the proud father of 4 kids and a loving husband. When not busy juggling between work, charity, and family, Franky is an avid reader of educational and inspirational books, and is crazy for Japanese sashimi.
关于徐瑞财先生
徐瑞财先生是一位商人,慈善家和典型的住家男人。同时,他也是耕心慈善协会的创始人。耕心慈善协会是一个非营利慈善组织,位于雪兰莪州莎阿南,致力于培养关爱社会,使慈善事业成为每个人生活的一部分,并创建一个平台来联系捐助者,受惠人和志愿者。他目前被当选为该协会的主席,目标是继续带领该协会迈上更高的台阶,以便激励和影响更多的群众关注弱势群体。
徐先生是一位商业奇才,投资及挑战于各形式的行业;当中包括人才管理,制造业及机械业。他把在商业界获得的成就及日已累积的的管理学,哲学和思维带进了他的慈善事业。
22岁时他踏入了社会,意志坚强的他决心某一天要出人头地并成为一名商人。就在25岁那一年他勇闯了商业领域,并在26岁时赢得了他人生的第一桶金。
徐先生以其独特的形式创立了耕心慈善协会,协会里的成员都是一群40岁以下热血的年轻人。其次,他将重点放在校园里,只因他坚信慈善也是教育形式之一,慈善之心就该在年轻时培养起!
截至目前为止共有成千上万的弱势群体在耕心慈善协会徐先生的领导下从中受惠。受惠者包括孤儿院,老人院,残障中心,天灾受害者,洗肾病患者,以及贫困家庭。
耕心慈善协会的年度感恩晚宴每年至少有一千人参与,此晚宴特邀了弱势群体,捐助者和志愿者一起共餐。学生和弱势群体更为晚宴安排了压轴表演,令晚宴增色不少。
其中曾和耕心慈善协会合作为弱势群体带来关爱的公司有:Columbia Asia Hospital,Kossan,万能,丰隆基金会,马来亚银行,Anytime Fitness,星洲日报,大众书局,The Barbecue Plaza 等等。
耕心慈善协会也被各大媒体瞩目,分别在各大地方日报,在线新闻和杂志上报导,这包括 The Star,New Straits Times,The Sun,星洲日报,南洋商报,中国报,Feminine Magazine,Sinar Harian和Kosmo。 徐先生更被 NTV7受邀上早餐秀节目,接受慈善项目的专访。
徐先生今日的成就不只局限于商业以及慈善领域,他更是4名孩子的慈父及太太的好好先生。除了平日忙于兼顾工作、慈善以及家庭,他也是一位忠于阅读含有教育和启发性的读者,同时也对日本生鱼片有着狂热般的追棒。